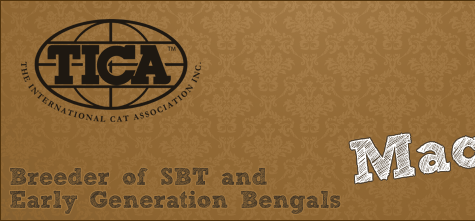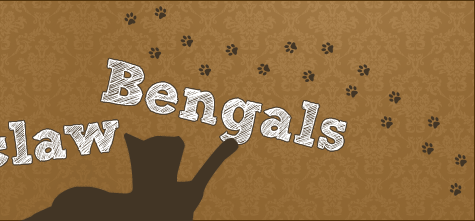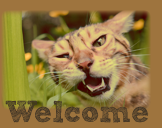 Welcome to Maclaw Bengals, we are a hobby
breeder located in North East England.
We breed brown spotted/rosette Bengals, the occasional snow and also early generation Bengals as special pets. All of our Bengals are born and raised in our family home and we make every effort to breed happy, well socialised pets with fantastic markings.
If you are new to Bengal's, please feel free to visit our
About SBT Bengals
page to find out all you need to know about these magnificent cats.
We hope you find our website helpful and easy to navigate, please feel free
to
contact us
if you have any questions or kitten enquiries.

We have retired from breeding

After almost 10 years breeding Bengals ,we have decided that we are now ready to retire. Changes in circumstances initiated this decision but we will continue to support Bengal owners and other breeders alike..
Kittens Available to reserve now ! ( All now Sold )


WE have 3 x SBT 2girls & 1 boy .
Also 2 f2 snows 1boy 1 girl


Maclaw Bengals Frodo Baggins ( NEW HOME now found )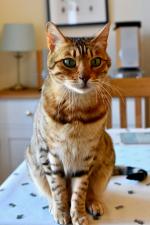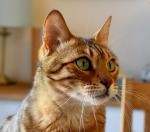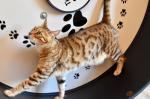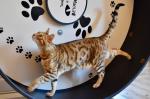 Cat type:
F5 Pedigree brown / black rosetted Bengal
Gender:
Male
Age:
5 years 9 months (born 17 August 2012)
Asking price:
£250.00
Up-to-date vaccinations:
Yes (December 2017)
Microchipped:
Yes
Litter trained:
Yes
Neutered:
Yes
Due to a change of family circumstances after 5+ years of sharing our home with our male Bengal Frodo, we are sadly looking for a new forever home for him.
After welcoming a new baby into our family, we can no longer give Frodo the attention he needs and are therefore looking for a new home for him where he can be the sole pet and benefit from heaps of attention and his own space. He has also started to fight more with his sister.
Frodo will need to be the only cat in his new home. Children will need to be old enough not to chase after him / hound him. He has always been looked after as an indoor cat so will also need enough inside stimulation, play and exercise in lieu of going outside. We have taken him outside on a lead, which he seemed to enjoy.
Frodo is a very affectionate, energetic, and outgoing cat, new owners will reap the benefits of playing with him regularly and giving him lots of cuddles. He is a vocal feline who loves people - tradesmen working in our house have been surprised to find him nosing around in their toolboxes. When he hears the front door being opened, he will come to greet you as you return. He will happily push under the duvet covers for a morning lie-in snuggle complete with tank-like rumbly purrs. Absolutely loves being up high - on the top of kitchen cabinets, large fridges and your shoulders.
He has two meals a day - Royal Canin Bengal kibbles in the morning (these are kept topped up throughout the day) and Felix pouches in the evening.
He is fit and healthy (clean bill of health from the vet and up-to-date boosters) and doesn't require extensive brushing as some longer haired breeds do. He does like it though.
Frodo comes complete with a microchip (which we will transfer to the new owner) and proven Bengal pedigree from TICA registered breeders Maclaw Bengals.
If you feel you could give Frodo the loving home he needs please contact
Jo Coombs
j.k.coombs1@gmail.com