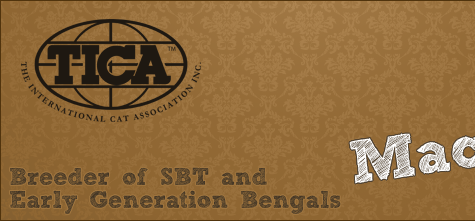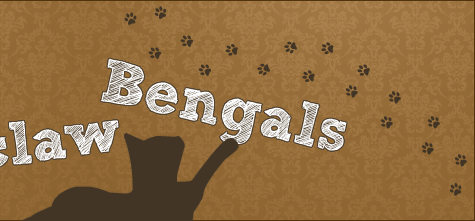 All news from 03 Aug 2009 -to- 23 Dec 2009 - (
16 Posts
)
(Oldest posts at the bottom)
Merry Christmas

Maclaw Bengals would like to wish everyone a very
Merry Christmas and a Happy New Year.
Suki on the wheel


Our Suki broke the record on the wheel today with a 40 min walk. She got off, had bite to eat then went for a nap ZZZZZZzzzzzzz


The last of this Seasons Kittens

Our handsome Brody, and the beautiful Juno have now been adopted. They have gone to their forever home today and we at Maclaw Bengals are happy to see them go to such a good and loving home with Mary Alderson and her lovely family.
We wish Mary and her family a very Merry Christmas and a Happy New Year. Please keep in touch and let us know how the kittens are doing.
Little Claudia was our chosen kitten and we intend to keep her for breeding. Hopefully she won't miss her sister and two brothers too much.
That's it for this year! no more kittens until next spring,
then the whole cycle starts again!!
Our Beautiful Prince Nazeem has gone to new home

Our lovely Naz has gone to his new forever home, he has been adopted by Sonia Carr and her lovely family.
We wish Naz a long and happy life with Sonia and family and know he will be well looked after.
Sonia has two other beautiful cats Gizmo (19) and felix (17) who I'm sure will have a lot of fun with Naz.
Best wishes from all of us at Maclaw Bengals Sonia and we hope you keep in touch.
Kittens and The Maclaw Wheel - Video

A short video of our Kittens on The Maclaw Wheel
Our wheel is large but feather light so kittens can move it
Check out
The Cat Wheel
section for more info
Bengals and Dogs??

Our friends Bill and Lisa from Loungeleopard Bengals recently sent us a picture we thought might be nice to share for anyone who wonders if a Bengal could get on with a dog.
We think the above image answers that :)
Kittens Latest

New pictures of our kittens are now
on the kittens page.
They have paper ID collars on so that
they can be identified more easily.
Feeding time
Duncan and Suki in Slow Motion - Video

New Boy on the block

We recently picked up our first stud from Silver Pride Bengals
www.silverpridebengals.co.uk
many thanks to Kerry and Mark for being so helpful and informative.
We have decided to call him Duncan Maclaw.
Duncan was born on 7/6/2009 he's a beautiful boy, his markings are very distinctive and he will be ready to start his active life in just a few months, which gives us plenty of time to get our girls used to him and vice versa. They are already very happy to play and chase each other around our house.
Another Kitten Update..

Our kittens are now 4 weeks old and getting
into everything, driving poor Mia crazy.
The kittens will be ready to leave their mum around the 11th/18th. November and of course by then they will have been toilet trained, have their first innoculations and have been wormed. We have been lucky enough to get two fabulous boys and two absolutely gorgeous girls.
Kitten Update..

Just a quick update to say all 4 kittens are doing really well and getting stronger each day. There little eyes have finally opened and they are becoming more vocal.
We have acquired a new cat house for the kittens
to play in when they start walking..
Lily and Suki in Slow Motion - Video

Kittens Have Arrived!

We are pleased to announce our babies have arrived! Mia gave birth to four beautiful kittens this morning 19th. August 2009. Mother and babies are all doing well. As yet we don't know the sex of the babies but the markings are fantastic and we are so pleased.
Lily and Suki Playing - Video

Mia's pregnant

Maclaw Bengals are very happy to announce we are expecting our first kittens. Our beautiful bengal Forest Gems Lounge Leopards Mia Maclaw is expecting a litter of kittens due from 12th August 2009.
Mia is currently nesting like mad and resting herself in preparation for the imminent birth. We are looking forward to announcing just how many little bundles of joy we are lucky enough to get.
A very exciting time for us and we are all waiting with baited breath. Watch this space for more news and pictures.
Welcom to our website / Stud House

Well, it's taken a few weeks to sort out, but our website is finally here :) We still have lots to add, but now most of the site work is done the rest can come later.
A few weeks ago we took ownership of the old stud house from Bill and Lisa at LoungeLeopard Bengals who very sadly decided to stop breeding, after a fresh coat of paint and interior remodel its now ready for our first Stud, though as we have yet to get one, Lily gets to have the first explore of our new outdoor Bengal sanctuary.
Take a look at the construction Images
More Updates soon...