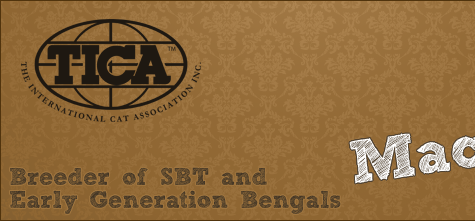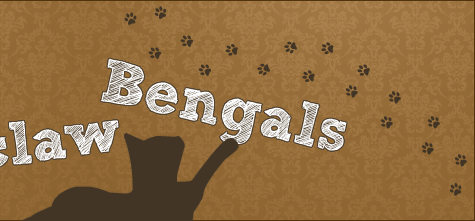 All news from 20 Apr 2014 - 24 Jun 2014 - (
6 Posts
)
(Oldest posts at the bottom)
Sad News

Today we have had some very sad news.
One of our beautiful boys was killed 2 miles away from his home.
He had been run down by a car.
Zues was our very first Pure Snow Kitten and a very special
boy with a wonderful character and a wild soul.
Zues had a lucky escape in October 2012 when he was injured quite badly and suffered a broken jaw.
We reported this news at the time and I was very upset that our beautiful boy had been injured.
This is one of many reasons why we at Maclaw Bengals prefer our kitten owners to keep their Bengals as house cats. Unless you live in a completely rural setting, your Bengal if let out is in danger from dogs, traffic or even from being stolen.
This time unfortunately Zues wasn't so lucky and his owners tell me he was cremated today at Durham Pet Crematorium. We know Steve and Jackie are very upset and our hearts go out to them for the loss of their beautiful wild boy.
There are no words to take away the pain we feel from the sudden loss of a beloved pet, but we can take comfort in knowing that Zues had a wonderful life, well lived and always loved.
God Bless You and goodbye Zues.



We have kittens

Our two beautiful SBT boys are still waiting for someone to come along and take them to their forever homes.
Both our lovely boys are the last mating there will ever be between our fabulous Tatudtiger Serenity (Zuri) and our sadly missed Littlestar Pawnee of Maclaw Bengals ( Big Red), Red was diagnosed with cronic kidney failure earlier this year.
We and our vet did everything we could with steriods, a special diet and lots of extra nice fresh water but sadly our poor boy began to suffer and after being such a wonderful father to many of our beautiful kittens we couldn't let that happen, we decided it was time to say goodbye.
Zuri by this time had delivered her three perfect boys, and amongst the three we found our Littlestar Cheyanne (Little Red), we made the decision to keep him as his fathers replacement and in this way carry on his fathers legacy.
We also decided it was time for our sweet girl to retire, we have had a few fantastic litters from Zuri and felt she deserved a permanent rest.
Her two remaining kittens are stunning breed quality boys but we would prefer they go as very special pets to a loving home.
Both Littlestar Blackfoot and Littlestar Banshee are healthy, happy well rounded
kittens with tons of attitude, they are socialised, litter trained and full of fun.
If you feel you would like to give one of our cheeky miniature leopards a home please call or email and we will arrange for you to come and meet our wonderful boys.



Two Beautiful girls

We have been very lucky with our F2 birth this time and Chani gave us three stunning little girls.
We have decided to keep one as a breeding queen ourselves and put the other two little stunners up for sale.
Chani is a fabulous F1 and very wild looking, her daughters are just as beautiful.
Cassandra is a stunning red rufus just like her stunning grandmother LoungeLeopard Sukira Maclaw. She's bright, lively and very wild looking.
She's a little shy of humans but extremely friendly once she gets to know you.
Our smallest F2 is our beautiful Sorcha, she's a little sweetheart and has huge
almond shaped eye's.
Very friendly and loving she is quite happy to come for a cuddle while her sisters and Zuri's boys are rough housing around in our kitten play room.
Both girls are registered with TICA and would be perfect and very special pets
for any loving family.
If you are interested in owning one of these rare and fabulous, wild girls please don't hesitate to give us a ring or send us an email.
The girls are ready to leave us from 8th. June.






We have kittens and F2 cubs!!!!

Check out our
instagram
, our kittens can be seen on there having fun
If you are interested in a kitten from us please
use our
SBT Kitten Enquiry form.
Kittens will be ready to leave us on the 6th of June
Hello Cuties

I just had to share this picture with everyone, our good friend's
Sam and Graeme have four of our previous kitten's.
Miso, Kiko, Yuki and Kia.
The Quads are seldom sitting still and this was a rare captured shot of the four of them looking a bit sheepish and obviously up to something naughty.
Aren't they just gorgeous? and of course their Mum and
Dad are very proud of them.

Happy Easter

Happy Easter from everyone at Maclaw Bengals.
Zuri and Chani's babies are now 6 weeks old.
Unfortunately we lost our little boy F2, he had a terrible heart defect.
We had noticed he was not feeding although his Mum had plenty of milk,
the three girls were thriving and he became very lethargic and was breathless
even when sitting still, we felt it was time to call in Sarah our vet.
After a few tests and scans it was determined his heart was three times the size it should have been and was causing problems with his breathing as it was crushing his tiny lungs, we took the heart breaking decision to prolong his suffering no longer than necessary.
The veterinary nurses at Simply Cats (our vets) decided to call him Kevin.
So we thought well! we had not decided on a name for him, it's a cute name
for our sweet little boy and so Little Kev it was.
Our Vet waited until we were there to say goodbye to little Kev and
sadly we said our farewells to our beautiful little boy.
God Bless you little Kev, we will miss you. xxx
Losing a kitten is never easy so we try to focus on the kittens
still here with us. Chani has three gorgeous little girls to lavish
her attention on and Zuri has three fabulous boys.
Hopefully all will continue to thrive and grow into beautiful adults.
We certainly hope so...